Love of Spinach



SPINACH-SAVING TIPS


By Melissa DeVaughn / Anchorage Daily News


(Published: June 25, 2003)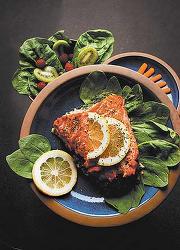 Spinach salmon pairs with a fresh spinach salad. (Photo by Bob Hallinen / Anchorage Daily News)

---

Click on photo to enlarge
Ours is a household in which the children do not groan when spinach is served. They are not forced to sit there until every bite is eaten. They are not bribed or cajoled or even threatened to clear their plates.

Why would they? Because their mother is a spinach addict, spinach is slipped into just about every meal they eat, so they hardly notice it anymore. It shows up in salads (not as simple as other entrees to persuade them to consume) but also is easily camouflaged in pizza, pasta, bread and even main dishes. Just the other night, I served our 5-year-old a mélange of chopped spinach, nutmeg and green onion nestled between two pieces of baked salmon, and he devoured it. Even I was surprised by that.

The thing is, spinach really is a tasty, leafy green vegetable. It's thick, meaty and robust, and it's the perfect Alaska green because it grows well in cooler climates, producing fresh salad fixings for the entire summer.
And did I mention that it's really good for you?
Spinach provides 20 percent of the recommended daily allowance of iron and has lots of Vitamin A; it contains folate, which is key to preventing birth defects in unborn children; it has no fat and no cholesterol, and it boasts an unusually high level of lutein, an antioxidant that can prevent vision problems.
"Spinach is a very versatile vegetable," said Burgundy L. Olivier of Lafayette, La., author of the cookbook "I Love Spinach," now in its second printing and gaining national attention.
"I love the taste, but the versatility of this vegetable, whether you use it fresh in a salad or sneak it into a stew, is wonderful. It pairs well with almost every food group; you can make homemade bread and put spinach in it, (and) it is wonderful with chicken and seafood and pork."
Now is the time to start thinking spinach, because Alaska crops are ready for the picking. Valley farmer Mark Rempel has featured it at the Downtown Market for the past three weeks, and he hopes to have it all summer.
"I've only grown (spinach) for two or three years, but it blows out of market," Rempel said. "I never take any home, which is good for me. I run out, and I have sad customers."
Part of Rempel's success can be attributed to spinach's temperamental growing pattern, which can turn home gardeners off. If it's too hot, spinach dries up and wilts. If it gets too much sunshine, it bolts and becomes bitter.
"The thing that I do is I plant it every week, and I would probably call that the most important thing you can do growing spinach," he said. "I know that I lose some plantings because they will begin to bolt, but I just plow those in and plant more."
Although California is the leading producer of spinach in the United States, spinach is one of the best vegetables to grow in Alaska.
It loves the cool, damp weather and rich, moist soil, and it can be planted right in the ground without transplanting. In the Lower 48, spinach can take up to eight weeks to mature, but in Alaska it will be ready in just six.
It's one of the first of the Alaska vegetables to reach the market and, if plantings continue throughout the summer, one of the last to leave.
"You need to remember it takes lots of spinach if you're going to cook it down, so plant a lot of it," Rempel said.
Just what kind of spinach to plant remains one of Rempel's trade secrets. There are three variations: curly, flat and slightly curly. On the seed packages, spinach will be described as "savoy" (crinkly leaves), flat (smooth leaves) and semi-savoy (slightly curly leaves).
Savoy varieties are usually the darkest in color and the most robust in flavor. For people new to the world of spinach, it may be best to sample the flat variety, which is what most grocery stores carry.
Flat spinach has an oblong, oval shape and is milder in flavor. The prewashed and packaged bags of baby spinach available at the grocery stores are of the flat-leafed variety.
Rempel won't give the specific name of his spinach but says it is of the "flat" or "smooth-leaf" variety.
Spinach originated in southwest Asia and the western Himalayas. Persian Arabs brought it to Spain in the ninth century, calling it "aspanakh," according to the food Web site HungryMonster.com.
Its popularity spread throughout Britain and the rest of Europe, and by the 19th century, it began showing up in North America.
Today, most people associate this green with the cartoon character Popeye, a brawny sailor made buff by eating spinach.
But even Popeye's urgings aren't enough to get most children to eat it. No wonder, said Olivier, who like most children grew up hating the green stuff.
"What we had in school was served out of a tin can, and back then it tasted like metal," she said. "It was awful. … I think one of the reasons children don't like spinach is how it looks. If you stick your fork in a pile of overcooked spinach, and this green stuff is just hanging there, it is not very appealing.
"If people would take the time to re-chop it, it would go over so much better."
It wasn't until Olivier experienced well-prepared spinach that her love affair began. She was at a fancy Louisiana restaurant and her date persuaded her to try Oysters Rockefeller, a decadent dish that is all oyster, butter and chopped spinach.
"(It) was made with fresh spinach and fresh herbs, and it was prepared by a professional chef using the best ingredients," she said. "It forever changed my opinion."
Her date's mother later gave her the recipe for Oysters Rockefeller."I cherished it because it was the first time an older woman had handed down a recipe to me, and that's like a rite of passage down here (in Louisiana).
Then another woman gave me a recipe for spinach dip, and my collection was started."
It took 28 years for the "I Love Spinach" cookbook to become a reality, and Olivier said she has been astounded by the response. Who thought this murky-green vegetable — reviled by children the world over — was actually so popular?
"It would be one thing if you didn't like oysters; I can understand that because it might be an acquired taste," said chef and fellow spinach lover Alex Perez, owner of Haute Quarter Grill in Eagle River. "But spinach is one of the best leaf vegetables that I enjoy using because it adds color. … It's not as strong as something like Swiss chard or a mustard green, but it has the same properties.
"And it adds earthiness and volume to any dish."
Daily News reporter Melissa DeVaughn can be reached at mdevaughn@adn.com.
---
Spinach Fettuccine
1 pound fresh spinach
1 cup fresh parsley sprigs (add an extra ½ cup optional)
¼ cup fresh chopped basil (optional)
½ cup olive oil
1 cup grated Parmesan cheese
½ cup walnut pieces
2 cloves garlic
½ teaspoon salt
¼ teaspoon pepper
1 12-ounce package of fettuccine
Additional Parmesan for topping (optional)
Remove stems from spinach, wash leaves thoroughly and pat dry. Using a food processor, gradually add spinach, parsley and basil while drizzling in the olive oil.
Add Parmesan, walnuts, salt, pepper and garlic to the mixture and blend until the mixture becomes almost creamy in appearance. Set aside. Cook fettuccine according to package directions, making sure the noodles don't stick together and are cooked al dente. Drain, and toss with the spinach mixture.
Add extra Parmesan is desired.
Serves 8 to 10.
— from "1983 Southern Living Annual Recipes" cookbook
---
Spinach Salmon
1 pound fresh spinach
3 tablespoons butter
2 to 3 green onions, minced, including some of the green tops
Salt and pepper to taste
Nutmeg to taste (I use about 2 teaspoons)
2 salmon fillets, about 1 pound each, skinned and boned
1 lemon
Chopped fresh parsley
Preheat oven to 425 degrees and position rack in the center. Butter the bottom of a rectangular or oval baking dish.
Remove stems from spinach, rinse thoroughly and place leaves directly in a large saucepan on low heat. Cover and let simmer until leaves are only slightly wilted, about 2 minutes. Transfer to a colander and drain excess water. Fluff with a fork and chop finely. Set aside.
In the same saucepan, melt 2 tablespoons of the butter and add the minced onions. Sauté until translucent, about 2 minutes. Add the spinach, and season to taste with the salt, pepper and nutmeg. Remove from heat and set aside.
Wash the salmon fillet and place, skinned side down, in the baking dish. Spread the spinach mixture evenly over the top of the salmon piece and place the second salmon fillet, skinned side up, on top. Dab the remaining tablespoon of butter to the top of the fillet in small pieces. Add more salt and pepper to taste, if desired and bake uncovered about 20 minutes or until opaque.
When done, transfer to a large platter and garnish with thinly sliced lemons and fresh parsley.
Serves 4.
— from "Williams-Sonoma Simple Classics Cookbook" by Chuck Williams
---
Raspberry-Spinach Salad
1 pound fresh spinach, washed and stemmed
1 pint fresh raspberries, rinsed and drained
3 to 4 kiwis, sliced
¼ cup (or more to taste) toasted almond slices
Vinaigrette:
1 cup olive oil
5 tablespoons raspberry vinegar (red or black)
½ teaspoon salt
2 cloves garlic, minced
Combine everything in a jar; cover tightly with a lid and shake well. Toss with above salad ingredients.
— from vinaigrette recipe from "Moosewood Cookbook" by Molly Katzen
---
Potato, Spinach and Beef Lasagna
3 medium potatoes, sliced 1/4-inch thick
1 tablespoon butter
1 small onion, finely chopped (1/2 cup)
1/2 cup celery, diced
1 garlic clove, minced
1 can (4-ounce) mushroom stems and pieces, drained
1 pound extra-lean ground beef, browned and drained
1 package (10-ounce) frozen chopped spinach, cooked and squeezed dry
1 can (8-ounce) tomato sauce
Salt and freshly ground pepper
1/2 teaspoon dried oregano
2 ounces cheddar cheese, shredded (1/2 cup)
Preheat oven to 400 degrees. Line a large baking dish on sides and bottom with potato slices; set aside. Heat butter in large skillet and sauté onion, celery, garlic and mushrooms. Add cooked beef, spinach, tomato sauce, salt, pepper, and oregano. Pour mixture into baking dish and sprinkle cheddar cheese on top. Bake 35 to 40 minutes. Allow to stand 5 minutes before cutting.
— from "I Love Spinach" by Burgundy L. Olivier
---
Breakfast Pizzas
Olive oil (for preparing pan)
2 cups all-purpose biscuit mix
2/3 cup milk
¼ pound bulk breakfast sausage
1 cup fresh spinach leaves, stems removed, thoroughly washed and chopped
6 fresh button mushrooms, coarsely chopped
½ cup prepared pizza sauce or spaghetti sauce
½ teaspoon oregano
½ teaspoon basil
½ cup shredded Mozzarella
4 eggs
Preheat oven to 425 degrees. Lightly oil baking sheet. In a mixing bowl, combine baking mix and milk, blending until soft dough forms. Lightly flour a work surface and gently knead dough a few times. Evenly divide dough into 4 pieces and place on prepared baking sheet. Press each piece into a circle, pinching the outer rim to form a lip. Brown the sausage in a skillet; drain well.
Add spinach and mushrooms to sausage Stir in spaghetti sauce, oregano and basil. Pour 1u20444 of the sauce mixture onto each pizza circle, spreading it to the rim. Carefully place 2 tablespoons of mozzarella cheese around the rim, and crack an egg in the center of each pizza. Bake 10 to 15 minutes, or until crust is a golden brown and the egg white is cooked.
— from "I Love Spinach" by Burgundy L. Olivier
---
Easy Greek Spinach Squares
6 eggs
½ cup crumbled feta cheese
Dash salt
Nutmeg to taste
1 (10-ounce) package frozen chopped spinach, thawed, chopped and drained
Cooking spray
Preheat oven to 350 degrees. Beat eggs in a large mixing bowl. Stir in cheese, salt and nutmeg. Add spinach and stir until thoroughly blended. Spray an 8-inch square baking pan and pour mixture in. Bake 30 minutes or until knife inserted near center comes out clean. Cut into squares and serve.
Note: You may also add minced onion, sun-dried tomatoes or browned breakfast sausage before baking.
— from "I Love Spinach" by Burgundy L. Olivier
---
MORE ABOUT SPINACH: Burgundy Olivier offers spinach tips and tells how to order her "I Love Spinach cookbook." ilovespinach.com




SPINACH-SAVING TIPS