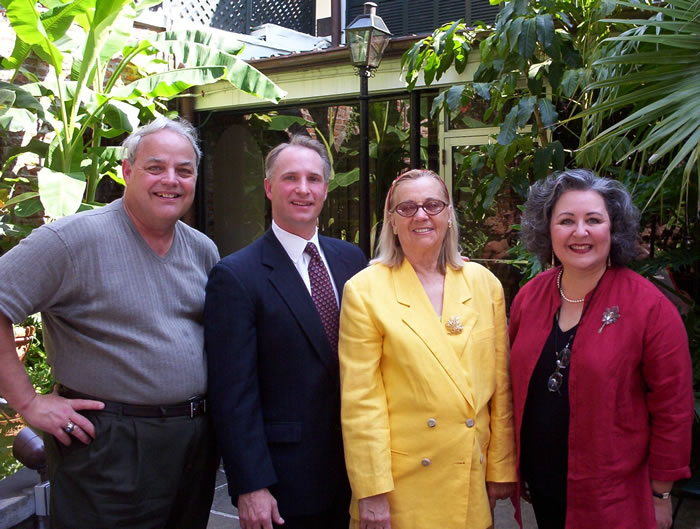 L to R: Guy Bower (KNSS Radio Talk-Show Host; Wichita, KS), Blake Brennan (Brennan's Restaurant; New Orleans, LA), Bonnie Warren (Public Relations; New Orleans, LA) and Burgundy L. Olivier (Author & Culinary Humorist; Lafayette, LA) May 2003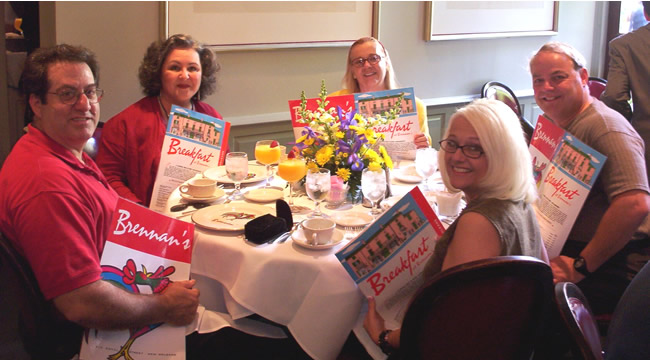 L to R: Al Olivier (AL OLIVIER Computer Technology Management); Burgundy L. Olivier (Author & Culinary Humorist); Bonnie Warren (Marketing Director; New Orleans, LA); Beth Bower (Wichita Woman Magazine; Wichita, KS); and Guy Bower (Radio Talk Show Host; Wichita, KS)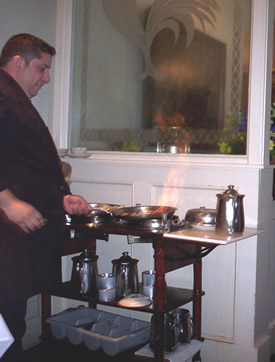 [Preparing World Famous "Bananas Foster" at Brennan's Restaurant]

Left: Brennan's BRANDY MILK PUNCH, served in the courtyard. An aboslute "must-have" before breakfast.

Right: BANANAS FOSTER
A Brennan Creation and
now World-Famous. Bananas
sautéed in butter, brown sugar,
cinnamon and banana liqueur,
then flamed in rum. Served
over vanilla ice cream.
Scandalously Delicious!
Left side of plate: OYSTER SARDOU
Deliciously spicy fried oysters
atop sliced artichoke bottoms
nestled in a bed of creamed
spinach and covered with
Hollandaise sauce.

Right side of plate: EGGS NOUVELLE ORLÉANS
Poached eggs served
on a bed of lump
crabmeat topped with
a brandy-cream sauce.
Left side of plate: EGGS PORTUGUESE
Flaky pastry shells filled with
freshly chopped tomatoes
sautéed in butter with parsley
and shallots. Topped with
poached eggs and covered
with Hollandaise sauce.

Right side of plate: EGGS ST. CHARLES
Poached eggs atop
delicately fried trout with
Hollandaise sauce.

Visit: www.brennansneworleans.com